---
Gallant and Intrepid: U.S.Marines of Fox 2/5 in Operation Union II, May 30 - June 2, 1967 26Nov08
I received this in an email from a guy named Daniel Miller. " Attached is something I put together on UNION II from interviews with Fox 2/5 veterans, After Action Reports and other information I was able to get a hold of." "I was not a Marine, but salute you and all your brothers."

---
2/5 Command Chronology August 1968 -- These pages are from a CD Rosie obtained from the Marine Corps History and Museum Division. CDs are available free ($10 if you want more than one copy) by contacting Fred Grabowski 202-433-4253 (voice) 202-433-7265 (fax). Request Vietnam CD #48 which covers 1965 - 1971. Some selected additional pages will be added as time allows.
IMPORTANT UPDATE: 10Dec05 -- It was reported that the above information is incorrect. A Google search located the following URL: http://hqinet001.hqmc.usmc.mil/HD/Home_Page.htm. In 2005 the Marine Corps History Division was moved to the Marine Corps Base in Quantico, VA. Contact information from the web site Reference/General Historical 703-432-4874. Unit Information: 703-432-4876. The first posting is not being removed so users have the information regarding the request for Unit Histories processed in the past.
Life Magazine - October 1966
The Life Magazine October 28, 1966 cover photo.: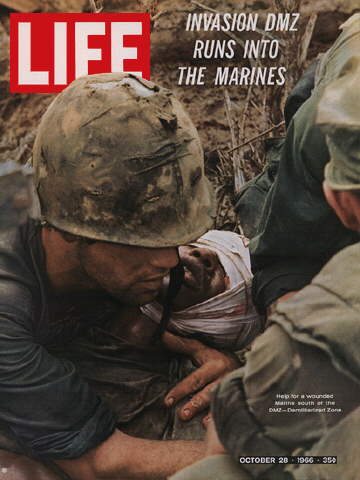 During the later part of 1966, Fox Company, 2nd Battallion 5th Marine Regiment, along with other units took part in Operation Prarie at the Demilitarized Zone (DMZ). The DMZ, in Vietnam, ran from east to west near the center of present day Vietnam and corresponded to the 17th parallel. It spanned more than 100 Kilometers and was a few of kilometers wide. It ran along the Ben Hai river for much of its length, and an island near by was controlled by the North Vietnamese forces (NVA) during the Vietnam War. The picture below is of Cpl. John Wilson, an exemplary Marine, crossing a river with a 3.5 Rocket launcher on his shoulder. Cpl. Wilson was a squad leader for 3.5 Rocket launchers and was attached to 3rd Platoon. The picture appeared in Life magazine, October 28, 1966 edition, and in a book called "Requiem." The book detailed the works of all the photographers that lost their lives in Vietnam. This picture was taken by Larry Burrows who later died in Laos in 1971. The picture is also displayed at the Marine Corps Museum and at the Old Presidential Palace (now a museum) in Ho Chi Minh City (Saigon) by the Vietnamese.
Other photographs of Operation Pararie by Larry Burrows, including the one below, can be seen at the following web site:.
http://life.time.com/history/vietnam-war-the-story-behind-larry-burrows-1966-photo-reaching-out/#1
.
---
The history of the 5th Marines goes back to April 1914 and President Woodrow Wilson. With the rising diplomatic tensions in the Caribbean, President Wilson called for a 5th Marines Regiment.
"Originally formed for the Vera Cruz expedition in 1914, the regiment later served in Haiti, and then became the first Marine unit in France, in July 1917, fighting in the 4th Marine Brigade, 2nd Division during World War I. During the early 1920s it served in the U.S., on two occasions helping to guard the mails from train robbers, and then went to Nicaragua 1927-1933, and was inactivated in 1934. Reactivated in 1941, it formed part of the 1st Marine Division during World War II, Korea and Vietnam, but during the Gulf War saw service as a separate unit." The Marine Corps Book of Lists, Albert A. Nofi, [Pennsylvania: Combined Publishing, Inc., 1997] (p.80).